A trusted consultancy and business advisor, RLR's clientele includes Community & Regional Banks of all sizes. RLR is the industry's longest tenured full-service, nationwide consulting firm servicing commercial banks in four primary categories:
Technology, Regulatory Compliance, Operations and M&A.
Recent News
RLR to Expand Footprint
RLR Management Consulting has announced our intent to expand our footprint geographically. Although RLR has been engaged by clients throughout the U.S, the emphasis has been on the western part of the country over the past five (5) or so years. RLR has worked with or in approximately 90% of the Community Banks in California and roughly 70% of Community Banks in the western states. We have strategically concentrated on this market and we have achieved record revenue and earnings the past two years.
However, in looking at the market footprint, it has become apparent that fewer and fewer banks remain viable clients in California and the west, due to consolidation, and in some cases, elimination of the community banks. In the past, RLR has worked with clients in the mid-western and eastern region, including Puerto Rico, and internationally in Xaimen China, Hong Kong and Korea.
We are actively pursuing new opportunities as well as strategically looking to hire consulting professionals outside of our traditional geography. Additionally our current consulting professionals were thrilled with this news and are eager to fill opportunities as they develop.
Our first engagement on the East Coast was recently acquired, and we look forward to many, many more. It is RLR's plan to offer our full suite of consulting services throughout the country, which includes Technology, Operational Services, Regulatory Compliance, Mergers and Acquisitions, Audit and Related Services, and DeNovo Banking. Please join us and help get the word out!
Press Releases
RLR Management Consulting Reports Second Quarter Audit and Compliance Successes

Fintech Vet Aims to Make Banking as Easy as an App Download

Tech Can't Solve Security Solo

Bye Bye Bank Branches? Not So Fast

Cost Considerations of Technology Choices

Tips to Prepare Your Community Bank's Next Compliance Exam

Digital banking: Three ways to know if your bank is doing it right

Surviving Three Most Common M&A Challenges
Heritage Oaks Bank Leverages RLR Managment Conuslting Inc for Online Banking Platform Evaluation and Selection
RLR Management Consulting Reports Six Months of Continued Success Supporting Bank Clients
How Banks Will Differentiate Themselves and/or Foster Innovation
Cybersecurity Questions for Bank Directors
Ruth Razook provides insight for American Banker: "SunTrust's Twist on Fintech: Focus on Commercial Clients"
RLR Management Consulting Hosts Successful March Educational Workshop Regarding Updates to FFIEC IT Examination Handbook and Cybersecurity
Due Diligence and Merger & Acquisition support
With the ever-changing landscape in banking, one of our fastest growing service offerings are:
Accounting and Financial Reporting
Loan Portfolio Analysis
Operations
Information Technology
Contract Reviews
Treasury Management
Staffing Analysis
Risk Management
Project Management
Data Mapping
Testing
If your Institution requires assistance with the Due Diligence Process or with Supporting a Merger or Acquisition, we can help. Please contact Mitch Razook, President & COO, at mitch.razook@rlrmgmt.com or send your inquiry to info@rlrmgmt.com.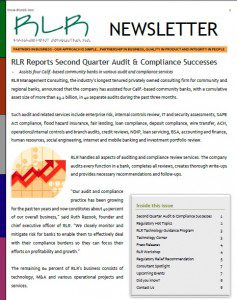 RLR Management Consulting, the industry's longest tenured privately owned consulting firm for community and regional banks, announced that the company has assisted four Calif.-based community banks, with a cumulative asset size of more than $3.2 billion, in 40 separate audits during the past three months.
Such audit and related services include enterprise risk, internal controls review, IT and security assessments, SAFE Act compliance, flood hazard insurance, fair lending, loan compliance, deposit compliance, wire transfer, ACH, operations/internal controls and branch audits, credit reviews, NDIP, loan servicing, BSA, accounting and finance, human resources, social engineering, internet and mobile banking and investment portfolio review.