Upcoming Events
Ruth Razook to Moderate MRB and MSB Panel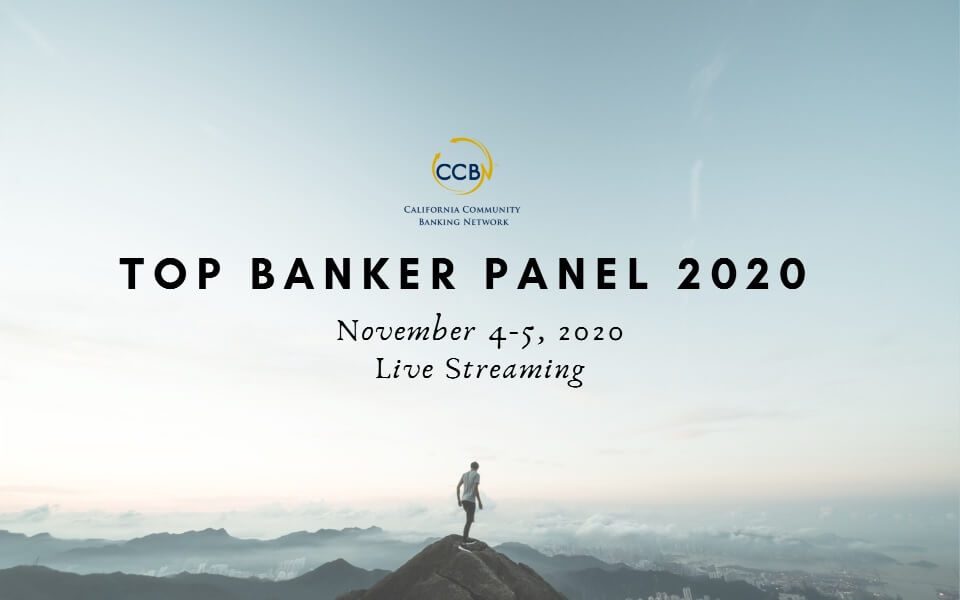 D O N ' T  M  I  S  S    T  H  I  S
CCBN TOP BANKER PANEL
November 4 – 5, 2020
Live Streaming
Virtual Conference
Staying in tune and alert is a must as we've learned from this unpredictable year. As we enter the fourth quarter and inch our way toward the end of 2020, opportunities to network and hear from peers in the marketplace is critical. Don't miss this opportunity to hear from community banking's top performers, hear the latest from regulators and learn about new resources in a new engaging virtual space!
Our highly rated annual CCBN Top Bank Panel returns for its 6th year (this time Virtually) on November 4 & 5, 2020. This year we will have four panels – two CEO Panels (one banks under $1 Billion, the other over $1 Billion), a new Panel focused on Marijuana Related Businesses (MRBs) and Money Services Businesses (MSBs) and a Regulatory Panel with the FDIC, CDBO, FRBSF and the OCC. Gary Steven Findley will again moderate these panels, leading off with a brief update on the industry that sets the stage for the panels and discussions.
Meet our panelists:
CEO Panel #1 – Banks $1 Billion or greater
Khalid Acheckzai, President & CEO, Poppy Bank, Santa Rosa
Jim Ford, President & CEO, Central Valley Community Bank, Fresno
Kevin McPhail, President & CEO, Bank of the Sierra, Porterville
Joanne Kim, President & CEO, Commonwealth Business Bank, Los Angeles
MRB and MSB Panel –
Moderator: Ruth Razook, Founder/CEO RLR Management Consulting, Palm Desert
Tom Duryea, CEO, Summit Bank, Oakland
Dana Bockstahler, President & CEO, BAC Community Bank, Stockton
Tamara Stolpp, SVP, Director, Banking Operations, The Bank of Hemet, Riverside
Radhika Dholakia, CEO/President, RADD LLC, Santa Ana
CEO Panel #2 – Banks $250 million to $1 billion
John Jelavich, President & CEO, River Valley Community Bank, Yuba City
Janet Silveria, President & CEO, Community Bank of Santa Maria, Santa Maria
Dann Bowman, President & CEO, Chino Commercial Bank, Chino
Jon Edney, President & CEO, Community Valley Bank, El Centro
Regulator Panel
FDIC – Kathy Moe, San Francisco Regional Director
CDBO – Manny Alvarez, Commissioner, Banking or Aaron Prosperi, Deputy Commissioner, Banking
FRBSF – Kevin Zerbe, Senior Vice President
OCC – Richard Dixon, Assistant Deputy Comptroller, Orange County
Please mark the dates to join your peers on November 4 & 5, 2020 for this highly productive and popular event.