RLR Team Gets Together
RLR Team Gets Together
The RLR team met and celebrated together last week for the first time since the pandemic. "Nothing replaces the face-to-face we experienced last week" said Ruth Razook, RLR's CEO. Although we have countless video meetings, conference calls and one-on-one discussions, what great comradery and fun to have our team together in one place echoed Mitch Razook, RLR's President.
Folks gathered in Southern California from Chicago, Minneapolis, greater Nashville, Seattle, Boise, Denver, and Northern and Southern California. A half day business meeting and planning session was held followed by a party for all.
Pictured below is our team: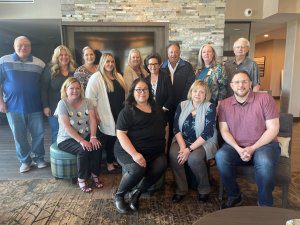 Standing (back row from left to right): John McKee, Meg Tweedy, Mary Beth Anderson, Diana Strade, Mitch Razook, Valerie McCune and John Mason.
Middle row (from left to right): Nora Barefield (sitting), Taylor Horn and Ruth Razook
Sitting: (from left to right): Sandra Patino Leon, Neva McCormick and Paul Richardson
Not pictured: RLR Consultants Nancy Cook, Alison Caldwell, Chris Manning and Lynn Jarmon