Anticipation builds for more de novos as Calif. bank inches closer to opening
By John Reosti
Published November 08 2017, 2:16pm EST
See original article HERE
A proposed San Diego de novo is doing everything it can to become the third new bank to open this year.
Endeavor Bank can accomplish the feat if it raises $25 million of capital by Dec. 15, a target CEO Dan Yates believes his team can hit.
"Our momentum is strong," Yates said in a Monday interview. "It's a time challenge. I'm very optimistic we'll make it by that date."
The capital raise is Endeavor's last hurdle, since its application for deposit insurance received preliminary approval from the Federal Deposit Insurance Corp. earlier this month.
Even if the opening is delayed, 2017 has already been the busiest year for bank formation since the financial crisis. Two new banks — Blue Gate in Costa Mesa, Calif., and Winter Park National Bank in Florida — have opened their doors, and several others have made progress toward doing the same.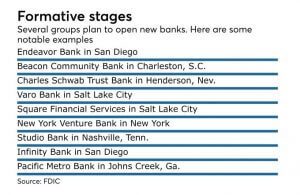 In addition to Endeavor, Infinity Bank in Santa Ana, Calif., and Studio Bank in Nashville are also closing in on start dates. In Charleston, S.C., organizers of the proposed Beacon Community Bank are seeking to raise $34 million before launching.
Leadership turnover at the FDIC, Office of the Comptroller of the Currency and the Federal Reserve, has created an "inflection point" that could spur more de novo formation in coming years, said John Podvin, a partner at Shapiro, Bieging Barber Otteson in Dallas.
"It all adds up to a shift that bodes well for charter opportunities in the future," Podvin said. "I hope and pray more charters are granted."
Podvin added he'd like to see de novo activity extend to rural communities.
"I'm not worried about major metropolitan areas," he said. "What about the wide open spaces."
More than 40 organizers are actively canvassing social and financial networks in support of Endeavor, Yates said.
The bank already has a number of high-profile investors and executives. Proposed chairman Matt Rattner co-founded the Karl Strauss Brewing Co. in San Diego in 1989, while another director, Christopher Woolley, helped found Square 1, a Durham, N.C., bank that sold to PacWest Bancorp for $849 million, or nearly three times its tangible book value, in late 2015.
Yates ran two California community banks before joining Endeavor earlier this year. His team includes Steve Sefton, a former CEO at Regents Bank, and Robert Horsemen, who co-founded and ran San Diego National Bank for 28 years. Robert Lampert, Endeavor's proposed chief financial officer, co-founded California Community Bank in 2003.
For his part, Yates said he has no qualms working with such senior colleagues, noting that 1st Business Bank, where he worked from 1988 to 2000, was essentially run by a group of four high-powered executives.
"We called them the four partners," Yates said. "I came to appreciate how four senior-level bankers could operate as a team and benefit an organization over time."
"We live in one of the most vibrant economies in the country, we have a strong business plan, we have the best management team I have ever been part of … and we have a board of directors and advisers with a multitude of local business relationships," Sefton, who is set to become Endeavor's president, said in a press release.
Ruth Razook, CEO of RLR Management Consulting, a Palm Desert, Calif., consulting firm that has worked with more than 75 de novos, said Endeavor has assembled one of the strongest boards and management teams that she's ever advised.
"It's very impressive," Razook said. "They've got people who founded banks and served as CEOs. I think they've got all the right pieces. … From every aspect we looked at, organization, capital, management, they're doing it right."
Endeavor is pitching itself to potential investors as an antidote to the decades-long wave of consolidation that has largely denuded San Diego of locally based banks. While San Diego is the nation's eighth-largest city, with more than 1.3 million residents, only four community banks remain headquartered there. The city had two dozen local institutions in 1995.
Over the same span, the city's deposit market has nearly quadrupled, to $80 billion.
Endeavor's business plan calls for establishing about 300 "key relationships" with local small businesses and capturing about 0.05% of the deposit market. It expects to reach profitability in the second or third year.
"There are a lot of customers and a lot of bankers that prefer to be part of a community bank," Yates said. "San Diego has the fewest banks headquartered here than at any time in my career."
Statewide, consolidation has prompted Razook, whose company once focused solely to California, to start seeking clients nationwide. California's bank count has dropped from 455 to 164 over the past 25 years.
Razook said she began this year with hopes that as many as five to seven banks might open. While that hasn't happened, she expects big things in 2018, with up to 10 banks debuting.