House passes cannabis banking bill, but Senate battle looms
WASHINGTON — The House passed landmark legislation Wednesday to enable financial institutions to provide services to legal cannabis businesses, shifting focus to the Senate where the bill's prospects are less certain.
The Secure and Fair Enforcement Banking Act, or SAFE Banking Act, would bar federal regulators from penalizing financial institutions serving marijuana businesses that are compliant with state laws. It passed the House 321-103, with 91 Republicans joining nearly all of the chamber's Democrats.
The House vote clears a significant hurdle for the banking industry, which has long sought congressional clarity on providing services to marijuana growers and other related services in states where the substance is legal. It is still a Schedule 1 drug at the federal level.
Getting the bill passed has been a six-year effort by Rep. Ed Perlmutter, D-Colo., whose state legalized recreational pot use in 2013. In recent days, he backed changes to the legislation that appeared meant to attract more GOP supporters. Those changes could become key in the Senate, where Republicans who oppose marijuana legalization have generally been reluctant to support any easing of federal enforcement policy.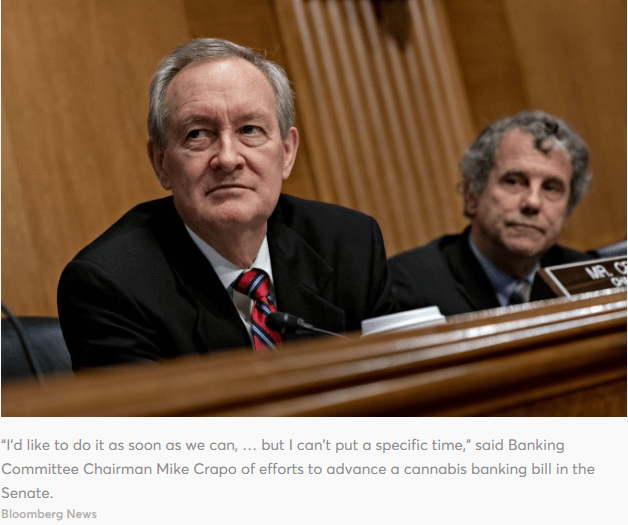 All eyes will now shift to Senate Banking Committee Chairman Mike Crapo, R-Idaho, and other Republicans in the upper chamber.
Crapo told reporters Wednesday that holding a committee vote on some sort of cannabis banking legislation is on his radar.
"I'd like to do it as soon as we can, … but I can't put a specific time," Crapo said.
Perlmutter's bill advanced out of the House Financial Services Committee in a 45-15 vote in March, with all of the panel's Democrats joined by 11 Republicans voting "yes." However, several Republicans on the committee, including Ranking Member Patrick McHenry, R-N.C., voiced strong opposition.
In order to build more bipartisan support for the measure, Perlmutter last week added language to the bill to include protections for industrial hemp businesses. The Senate last year legalized industrial hemp in a farm bill, pushed by Senate Majority Leader Mitch McConnell, R-Ky. But bankers have complained they still face regulatory resistance to servicing hemp growers and other businesses.
The bill was also amended to include language formally ending Operation Choke Point. The Obama-era Justice Department policy drew banks, which provided merchant services, into fraud investigations of certain controversial businesses such as payday lenders. The DOJ said it stopped the program in 2017.
While Crapo does not represent a state that has legalized cannabis in any form, he recently signaled that he hopes to get a vote before the end of the year on legislation to provide clarity for the banking industry on whether it can serve legal cannabis businesses. However, he has not said whether he will take up the SAFE Banking Act as-is or craft his own legislation. Meanwhile, the intense focus in Washington on the House impeachment inquiry into President Trump casts doubt on lawmakers' ability to finish any legislative business.
On Wednesday, Crapo said Perlmutter's changes are an improvement to the SAFE Banking Act.
"I think those were both improvements and I think that there are several other issues that we need to look at," Crapo said. "Those issues are things like making sure that interstate commerce aspects of all of this are set up properly, looking at the question of legacy cash and avoiding money laundering in terms of how you move all of the legacy cash into the system, and the questions of safety and health that have been raised in terms of just how we address the banking side of the issue."
The addition of the industrial hemp provision to the SAFE Banking Act convinced Rep. Andy Barr, R-Ky., who opposed the legislation in committee, to support the bill.
"For hemp producers and businesses to fully scale up and take advantage of the descheduling under the farm bill, they need access to financial services, again, I want to thank my friend from Colorado for working with me in a bipartisan way and I urge support," Barr said on the House floor Wednesday.
Despite the bill's uncertain future in the Senate, observers are still optimistic.
"Including the hemp banking and Choke Point provisions will undoubtedly help in the Senate, but we still believe the provision needs to be included in a broader legislative vehicle," said Isaac Boltansky, director of policy research at Compass Point Research & Trading.
Melissa Kuipers Blake, a political strategist at Brownstein Hyatt Farber Schreck, said the bill's passage gives momentum for future changes to marijuana policy on the federal level.
"This is the most widespread, bipartisan piece of cannabis legislation that will ever pass the U.S. House of Representatives," Blake said. "I think the momentum on cannabis is certainly shifting in the right direction."
After the bill passed, Rep. Steve Stivers, R-Ohio, noted that several Republicans on the House Financial Services Committee switched their positions on the legislation after it was amended.
"Look at the Financial Services Committee — we had 11 Republicans vote for it in committee," Stivers told reporters. "I believe [in the full House] vote we just had 15 of them vote for it, so a majority of the Republicans on the Financial Services Committee now support this bill, which is a big deal. … It's hard to get 321 members of the House to agree on anything. To get them to agree on this package is a big deal and a great jumping off point for the Senate."
He added that industrial hemp is an important industry in Kentucky, which could motivate McConnell to consider the legislation.
"If you look at the Kentucky delegation votes, hemp is pretty important in Kentucky so I'm sure that's important to Sen. McConnell too," Stivers said.